Milwaukee — The Wisconsin Veterans Chamber of Commerce has announced a strategic partnership with New Horizons of Wisconsin and Mission Wisconsin to expand up-skilling opportunities for military veterans, service members, and their families in Wisconsin. The partnership will provide military veterans with ready access to technology and business certification programs and scholarship opportunities while assisting employers with the development military- and veteran- talent programs.
"Expanding outreach and services to the military-affiliated population presents a unique solution to Wisconsin's workforce shortage while addressing the employment needs of our state's veterans and service members," said WVCC President/CEO Saul Newton. "Our partnership with New Horizons of Wisconsin and Mission Wisconsin allows us to strategically engage with job seekers while providing direct assistance to employers seeking to recruit and train veteran- and military-talent."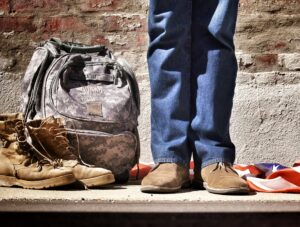 Wisconsin is home to more than 300,000 military veterans, and Department of Defense data shows nearly 4,500 military service members leave active duty and relocate to the state every year. While Wisconsin's unemployment rate of military veterans is historically low, underemployment has been shown to be one of the most significant challenges faced by returning veterans. According to a study conducted by LinkedIn, veterans are 37 percent more likely to be underemployed than nonveterans.
New Horizons of Wisconsin is associated with local Veteran organizations and County Veteran Service Officers across the State. In 2020, New Horizons was awarded a grant from AT&T to provide Career Training Programs to local veterans to up-skill themselves in order to enter the exciting world of Technology. "We are thrilled to partner with both the Veteran's Chamber of Commerce and Mission Wisconsin to open up opportunities for veterans across the state to access our in-demand technology and professional skills programs. We believe that learning new skills is the fastest way to change a life, and now veterans have a chance to change their lives with our help. It's a great partnership." Said New Horizons CEO Patrick Riley.
"We are excited to begin this partnership with the Veterans Chamber and New Horizons of Wisconsin to continue to build that interconnected community of support and resources for our military and veteran community. Mission Wisconsin founder Steve Janke says, "This partnership will help us to facilitate quality outcomes for the military community in the great state of Wisconsin."
###
The Wisconsin Veterans Chamber of Commerce is a nonprofit business association dedicated to supporting veteran owned and veteran friendly businesses so that businesses grow while advancing economic opportunity for service members, veterans, and their families in Wisconsin.
On behalf of their more than 300 member businesses and organizations across Wisconsin, the Wisconsin Veterans Chamber of Commerce serves as an advocate for Wisconsin's veteran business community and works to establish Wisconsin as the best state in the country for veterans, service members, and their families to thrive and reach their full potential.
Over 30 million successful students have utilized New Horizons' training to master critical areas of technology and business. Boasting their newly renovated Appleton location, as well as their cutting edge learning labs in Milwaukee and Madison, New Horizons of Wisconsin will host over 10,000 live, instructor-led training and certificate programs for professionals in 2023. With a large variety of Career Programs in IT, Business and Project Management, New Horizons of Wisconsin provides an exciting atmosphere for anyone to acquire, maintain and enhance necessary skills for the careers of today and tomorrow. New Horizons is Veteran ready and Post-9/11 GI Bill approved. Please visit www.nhcareerswi.com.
Mission Wisconsin LLC, launched in July of 2020, is a talent attraction company focusing solely on the military/veteran family, offering support through transition for families to meet civilian career goals and lifestyle expectations. Headquartered in Wisconsin, the best state in the nation for veterans, it helps service members navigate the last mile of transition while consulting with employers about Veteran Ready efforts they can adopt to strengthen their visibility among those communities it serves.